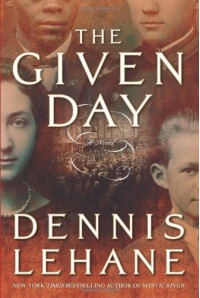 I'm back from a week's visit home, and with my remaining days off work, I finally got around to finishing The Given Day. I picked it up after enjoying Mystic River so much, and at the urging of my roommate.
This is not the kind of novel I'd normally read. This whopping, 700-page beast of a book is a fictionalization of the Boston Police strike of 1919. Danny Coughlin is a patrolman, the son of a captain, and frustratd with the conditions he and his fellow officers face everyday: long workdays, low salaries, and no sick days when forced to deal with the flu epidemic of 1918. Asked to work undercover to help the federal investigation of Communists and terrorists, Danny finds himself caught up in the world of organized labor and eventually helps lead the BPD toward unionization.
Meanwhile, Luther Laurence has found himself in Tulsa, Oklahoma, in search of a job. He's just discovered that his girlfriend, Lila, is pregnant, and he reluctantly weds her. He gets caught up in the world of "running numbers," and before long, four men are dead and one is barely clining to his life. Panicked, Luther flees town and finds himself in Boston, where he's hired to work in the home of one Captain Tommy Coughlin.
These two men's lives don't intertwine quite as neatly as Lehane probably hoped they would. The story certainly would have been more clumsy without these connections, but I felt as though Lehane could have done more to build upon the men's relationship. Furthermore, the vignettes describing Babe Ruth's chase of the AL home run record leading up to his trade from Boston to New York didn't do much to tie the various threads together any more neatly.
What Lehane does do well is capture the unrest of the era. There were times when I wondered why Lehane felt he had to incorporate so much history into his tale, but the ultimate outcome is a more complete picture of the times. With so much turbulence and desperation, it was impossible to not feel sympathy for Danny and Luther. They were colorful, well-drawn characters and I completely understood their motivations, even when I didn't find their actions wise.
Overall, a strong effort that certainly draws a gifted storyteller out of the confines of the suspense genre. While The Given Day will not likely jump onto a list of my favorites anytime soon, I did appreciate the novel and certainly made me reconsider the measures by which I pre-judge books.